How to scan QR codes on tickets?
The purpose of scanning QR codes on participants' tickets is to quickly mark the tickets with the "Checked in" status. Thanks to this, you protect the event space against unauthorized entry by third parties.
When does a participant's ticket receive the "Checked in" status?
When you scan the QR code using the app (during a stationary event).
When you manually change the ticket status on the ticket edit page in the organizer's dashboard (online events).
What do you gain from this?
You create a list of real event participants, which you can export to an Excel file.
You prevent the re-use of an already "Checked in" ticket by other people.
QR code scanning application
You can run the application in your mobile browser from the organizer dashboard (you do not install an additional application on your device).
Select the "Scan tickets" tab in the organizer dashboard menu.
The application is only available on mobile devices.
Internet connection is required during scanning.
The app uses your phone's built-in camera.
The application is only available when you have an active plan.
Recommendations
Check the quality of the Internet connection in the place where tickets will be scanned.
If scanning is to be performed by more people, create team member accounts and give them permissions to the organizer dashboard: "Team" tab (each has their own login and password).
Test the application on phones that will be used to scan QR codes. Create a test hidden event and a test registration (test ticket).
Minimum phone screen size: approx. 148 mm x 72 mm.
The application can be used to scan QR codes from both printed tickets and tickets displayed on participants' phones. If necessary, ask the participant to increase the screen brightness and enlarge the QR code.
If for some reason it is impossible to scan the QR code from the ticket (e.g. faulty ticket printout) or the participant forgets to take the ticket with him, you can find the participant's ticket in the organizer's dashboard ("Participants" tab). When editing the ticket, you can set the status to "Checked in".
Scanning step by step
Log in to the organizer's dashboard on your phone as the event organizer or a member of the organizer's team.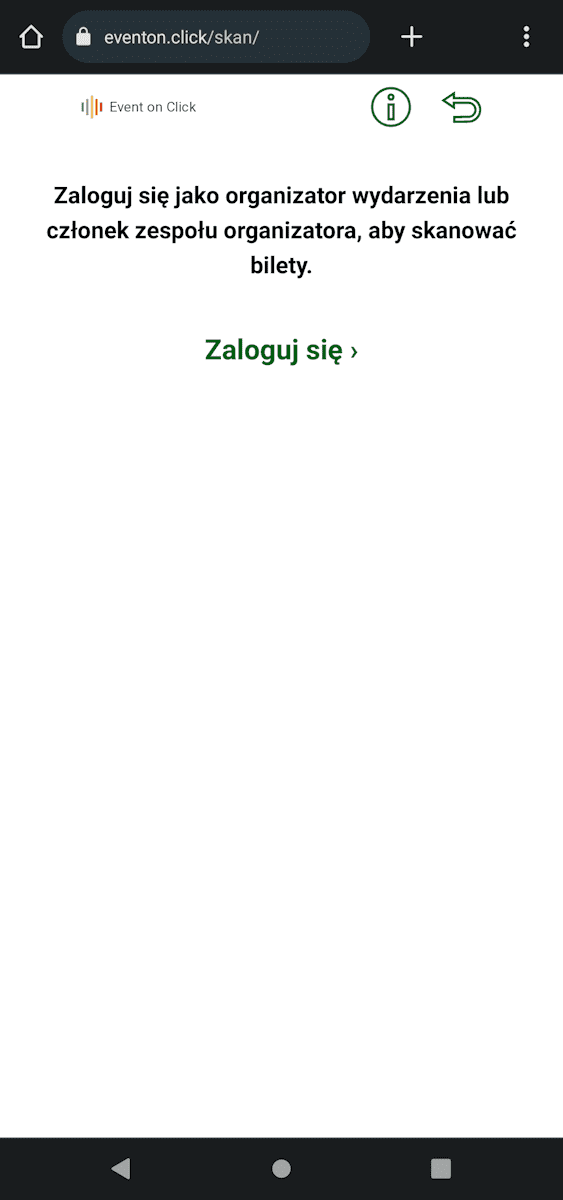 Main layout of the application
Select the appropriate camera for your device
Before scanning, select an action: Check in, Check out or Check status.
Place the QR code in the scanner frame. When the scanner reads the QR code, its decoded value will be displayed in the green field. Click "Confirm".
Message displayed when the ticket is "Check in".
Message displayed when trying to "re-Check in" the same ticket.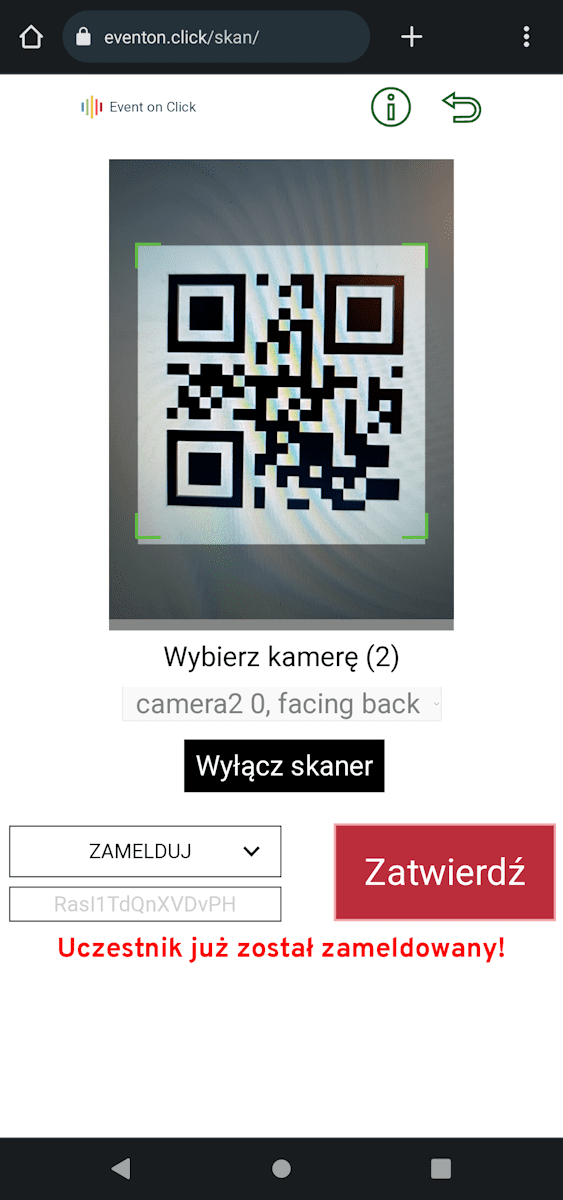 Message displayed when the ticket is "Check out".
Message displayed when the ticket is not in the "Check in" status.